For
Keresey Proctor
, editing video for the
Traveling Yogini Tours
started with a song. One of her client's favorite songs, by Moby. It sounded like a perfect fit during the opening sequence, but quickly stumbled as a confused dance partner. It demanded a slower rhythm, made moves in weird places, and stepped on the picture's toes. The picture deserved better.
Alternate Moby tracks tried, but stumbled. Only custom music would work.
With a deadline approaching, the director recommended hiring a highly reputable collaborator. The producer contacted Bruce Sales of 2BruceStudio, to score original music and sound design, and deliver the final audio mix for a tight but fair budget. A few soundtrack demos, and two weeks later, hugs and laughs went all around and 2BruceStudio delivered the final audio mix.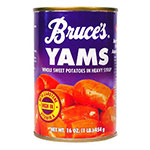 There's no way to confuse Bruce's Yams with 2BruceStudio. Although Bruce's Yams may be America's favorite yams, 2BruceStudio works tirelessly to be your favorite audio post production studio.
2BruceStudio is the culmination of almost 20 years New York City experience in the media and entertainment industries as film composer, original music, sound design, audio post production for film, television and any other media.
Hosting Thanksgiving could be as complicated as one of your media productions… yams not included. Maybe you've already tried one Bruce. Next media project, contact 2BruceStudio.
Bruce Sales is the composer of original theme music for the NOAA (National Oceanic and Atmospheric Administration) ClimateWatch video series. 2BruceStudio is also responsible for audio post production and video post production for each episode of the series. Read more…