Composing
- Info on the art and craft.
One Essential Element: From Powwow to Post Production in Asheville (Part Two in a Series)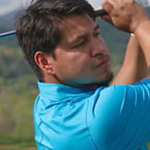 Music for "Golf" began in the mind of a movie soundtrack aficionado, creative director at Element Advertising, Jack Becker. He heard something relaxed, but driving; friendly, but with a techie edge. After a couple music demos, Bruce Sales finished scoring and mixing music and started the next step – spotting sound effects. Each time a golf club whacked a ball, it required the distinctive sound of a wooden driver, iron driver, putter, or wedge with sand. While wrapping up the "Golf" post production, Bruce discovered a swinging side of Jack. He's logged many hours, over the years, on the fairway. Sequoia National is one of the most sought after stay & play locations in the Carolinas. With each delightful swing of the club, Jack insisted one must hear a creditable effect. Jack discovered his sound designer would hear it no other way. The extensive sound effects library at 2BruceStudio provided blow-by-blow until the final ball fell, par for the course, in the cup.