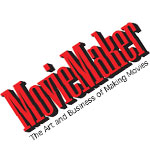 It's nice waking up in MovieMaker Magazine's "#1 Town" for filmmakers to live and work. But I must say, we wake up every day knowing full well it could turn out more like #2, or worse. How stiff was the competition? Where is another town with a population of 100,000 or less earning nicknames like "The Paris of the South", "The San Francisco of the East", or "Beer City USA"?  MovieMaker Magazine explains:
 Voted the most beautiful place in the United States by Good Morning, America, Asheville sets the gold standard for best small town moviemaking. From the Pisgah National Forest to the Blue Ridge Parkway, the Art Deco downtown to the Biltmore Estate, it has a vibrant history with productions like Last of the Mohicans, The Green Mile, The Hunt for Red October, The Hunger Games—and who could ever forget the Dirty Dancing lift scene from Lake Lure?

With nearly a dozen local film festivals (including the Chuck Norris-inspired ActionFest), community support from the Asheville Cinema Society, the Asheville Film Society, Asheville Area Arts Council, Screen Artists Co-op, and Western North Carolina Film Commission, the town is chock full of pre- and post- production facilities and some of the friendliest crew around. "The Hunger Games would not have been possible without all of the support from the local community and WNC Film Commission," said director Gary Ross.
I was born in Asheville, moved away and came back in 2005. I haven't seen everything, but driving this evening, as the highway reached a favorite panorama, the sunset over mountain peaks seemed to have everything. And when I walk through the forest here, there's a hint why Cherokee Indians still hold such deep reverence for Western North Carolina. It's not an easy living for filmmakers in Asheville, but it can be a good life.