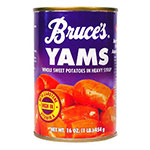 There's no way to confuse Bruce's Yams with 2BruceStudio. Although Bruce's Yams may be America's favorite yams, 2BruceStudio works tirelessly to be your favorite audio post production studio.
2BruceStudio is the culmination of almost 20 years New York City experience in the media and entertainment industries as film composer, original music, sound design, audio post production for film, television and any other media.
Hosting Thanksgiving could be as complicated as one of your media productions… yams not included. Maybe you've already tried one Bruce. Next media project, contact 2BruceStudio.