Toward the end of last summer Jack Becker and Matt Levin, creative directors at Element Advertising, opened a large orange door looking for help. It's a double-sized door the color of a fruit from Florida. While walking a few blocks to 2BruceStudio, what willpower it must have taken – bypassing coffee and pastries from Malaprop's Bookstore/Cafe, avoiding delights from The Chocolate Fetish, resisting an urgent text message while crossing the street? Jack and Matt needed help with plans for The Eastern Band of Cherokee Indians package of fifteen videos. Raven's Eye Productions would shoot and edit the videos. 2BruceStudio would supply post production services and one element missing from each of the videos – sound.
Jack Becker's history of award winning work with 2BruceStudio began in 2007. The fun often begins with a pow-wow about the message. Jack and Matt already had a creative direction for music and sound design, but they were eager to hear my ideas. We agreed to music and sound ideas for each video so quickly, we were still fresh enough to rough out a timetable and budget. Element approved my post production budget within two weeks. It was the last good luck sign we needed before the Visit Cherokee project kickoff.
Before the first video arrived I had a good chance to learn more about Cherokee history, culture and music. The Cherokee people remain, after their first contact with European settlers in the 16th century, one of the most socially and culturally advanced of all Native American tribes. Sequoyah's invention of the Cherokee syllabary in 1821 made it possible to read and write in the Cherokee language. The Cherokee published newspapers and built over one hundred schools while neighboring settlers, for the most part, eked out an illiterate existence. The Eastern Band of Cherokee are mainly descendants of 800 non-participants in the troubled Trail of Tears to Indian Territory (now Oklahoma). Read "Jacksonland: President Andrew Jackson, Cherokee Chief John Ross, and a Great American Land Grab" by Steve Inskeep for more.
Our first video "Itinerary Builder" instructed site users on using tools in the web site for building a visitor itinerary. After the animation was finished, original music was scored and the ubiquitous voice of Sharon Feingold was recorded and mixed at 2BruceStudio.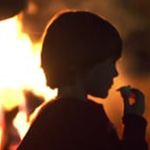 "Greatest Hits"
is a bouncy music track with frequent cutaways for sound design. Cherokee has much more to do and see than could possibly fit in a video, but somehow the team at Element Advertising makes it work. The original music by Bruce Sales is woven together with the sound effects, one might say, as nicely as any basket for sale in the Qualla Arts and Crafts. Listen and notice the choice of native instruments including drums, shakers, and flute.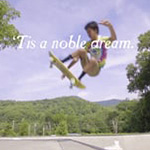 In the first frames of "Skate Park"
one hears tinkling piano, triangles and bells begin a surprising transformation from star dust magic to real world rhythms. Cherokee Action Sports Park isn't just for skate boarders preparing to "soar with the eagles". The park is for anyone, regardless of skill level, willing to bring a deck and an attitude. As the story unfolds via on-screen text, the music moves from orchestral percussion, sustaining strings and brass, and breaks down to dub-step until a visual misstep. It lands with one skater in the bowl, music stomping, live drums and hand claps keeping the pulse.