Creative
- Inspiration, insights, practical ideas.
You Never Know Who May Be Listening To You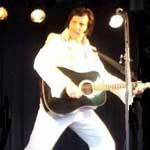 Have you heard of Carlo Martini? Not Carlo Maria Martini the Cardinal, although there are spiritual overtones we'll get to in a moment. Carlo Martini is an inspired Elvis performer. As Carlo appears on stage in iconic jump suits, grabbing the microphone singing "Don't Be Cruel", "Teddy Bear" and so on, he believes the spirit of Elvis is present. Carlo has remained faithful to Elvis and the Elvis faithful for years, as you might witness in his series of YouTube videos.
If you have a music track needing vocals, step up to one of our quality microphones and begin living the dream. You never know who may be listening to you.